Why Should I Consider Applying for the Paycheck Protection Program (PPP)?

The Paycheck Protection Program (PPP) provides loans to help businesses keep their workforce employed
during the Coronavirus (COVID-19) crisis. In order to reach the smallest businesses, SBA will offer PPP loans to
businesses with fewer than 20 employees and sole proprietors only from Wednesday, February 24 through
Wednesday, March 10, 2021. The program will stop accepting all applications on March 31, 2021.
PPP at a glance:
• Up to 100% loan forgiveness is available!
• Must have been in business as of February 15, 2020
• Interest rate of 1% fixed; 5-year term
• No collateral required; No government or lender fees
• For most borrowers, the maximum loan amount is
2.5x average monthly 2019 or 2020 payroll cost
Eligible entities include:
• Business entities and Tribal businesses (e.g.,
partnerships, corporations, LLCs, ITINs)
• Sole proprietors, independent contractors, selfemployed
individuals
• 501(c)(3) non-profit organizations
• 501(c)(19) Veterans organizations
• Housing cooperatives
• Destination marketing organizations
• Certain 501(c)(6) organizations such as Chambers of
Commerce
• Eligible news organizations
• Any business with a NAICS code that begins with 72
(Accommodations and Food Services) that has more
than one physical location and less than 500
employees per location
*If you received a PPP loan previously (first draw) you are still
eligible for a second draw loan up to $2M if you used 100% on
eligible expenses, have less than 300 employees, and suffered 25%
reduction in gross receipts. (Apply with SBA Form 2483-SD)
PPP Application Checklist:
• Completed Application with Contact Name and Email
Address
• SBA Form 2483 (first time borrowers); SBA Form 2483-
SD (second time borrowers)
• List of all owners (over 20%)
• Indicate Business Type
• Proof of Payroll or Net Income (IRS forms, bank
statements, unemployment insurance tax reporting
forms, etc.)
To find a qualified PPP lender:
www.sba.gov/LenderMatch
There's help near you: https://bit.ly/2Uha0XL
Need PPP information in a different language?
Click Here: https://bit.ly/3fSj5Aq
Visit DCEO's Website for more information:
https://bit.ly/36ji3Lw
Businesses can contact the First Stop Business
Information Center for questions on reopening
guidelines, mitigations, and financial assistance.
Toll free helpline 800.252.2923 or email us at
firststop@illinois.gov
More Topics
YWCA Northwestern Illinois has extended the deadline for applications for the 2021 YWCA Women of Achievement Awards to March 1, 2021.  Due to COVID-19, the Leader Luncheon event will be held virtually on May 13, 2021. The YWCA Women of Achievement Awards recognize individuals...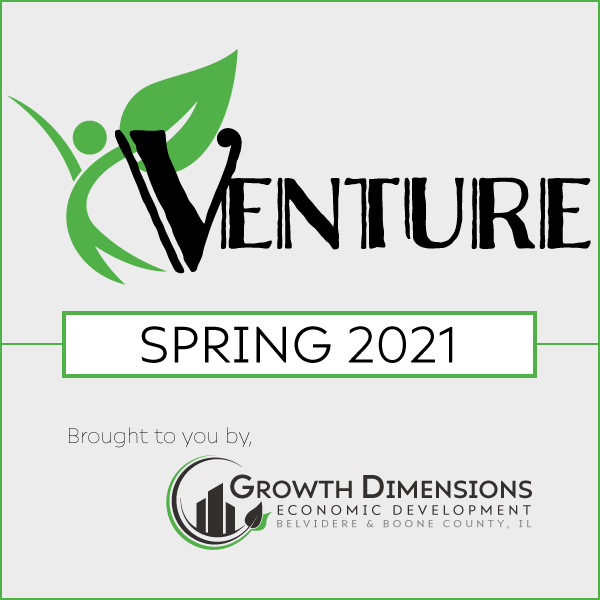 As part of their Venture Program, Growth Dimensions – Economic Development will once again offer an innovative initiative, known as the Kauffman FastTrac Program. FastTrac is designed to assist entrepreneurs in creating and sustaining their businesses. The Program is tentatively set to begin in mid-March 2021. "Whether an entrepreneur...