Spring 2021 Venture FastTrac Program to Start in March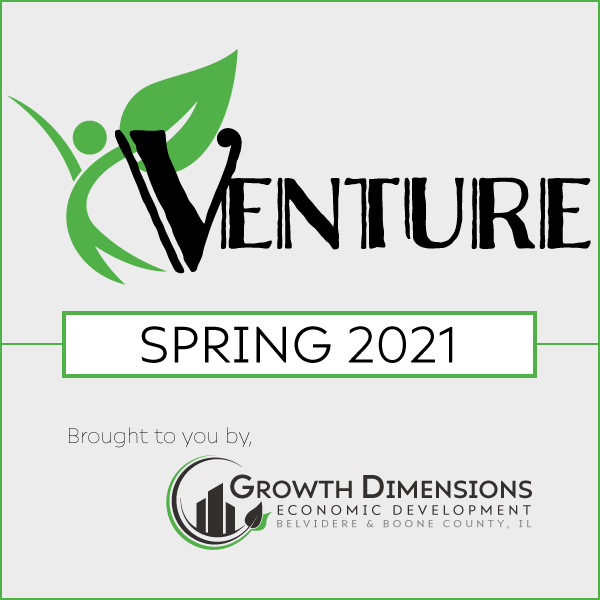 As part of their Venture Program, Growth Dimensions – Economic Development will once again offer an innovative initiative, known as the Kauffman FastTrac Program. FastTrac is designed to assist entrepreneurs in creating and sustaining their businesses. The Program is tentatively set to begin in mid-March 2021.
"Whether an entrepreneur is just beginning their self-employment journey or they are an established business looking to hone their skills, the FastTrac Program is designed to support and foster them every step of the way" commented Heather Wick, Business Enterprise Manager at Growth Dimensions.
Similar to past sessions, FastTrac and the Venture Program will provide participants an immersive course packed with relevant information, tips, exercises and tools to help entrepreneurs think about their business ideas. Growth Dimensions and their facilitators will incorporate a full line-up of course work and modules, over a 10-week period, creating a business plan from start to finish. Or, in the case of existing business owners, reviewing and fine tuning an existing businesses plan.
The sessions will be facilitated and trained by two entrepreneur experts, who have ties to the Boone County community – Matt Branom and Harold "Bo" Boger.
A local entrepreneur, Matt Branom is a co-owner and Vice-President of the Boone County Shopper, a weekly publication that mails approximately 20,000 copies to 99% of Boone County, Illinois. Branom oversees the operational and sales aspects of the Boone County Shopper.
Harold "Bo" Boger continues a successful career in business and industry, spanning over decades. Boger graduated from Virginia Wesleyan University with a Bachelor of Science in Biology/English. He also earned his Master of Science: Northwestern University focused on Enterprise Organizational Communication Graduate Matriculated.
The tuition amount per participant is a low $399, which covers all costs for the 10-week course. Included with tuition is a full set of online resources, Venture materials, access to trainers and Growth Dimensions staff, along with additional benefits.
With the option to join these sessions remotely, entrepreneurs do not need to live in Boone County to participate. Venture is available to anyone, regardless of where they live.
You can find a full list of Venture Program benefits outlined HERE.
More Topics
YWCA Northwestern Illinois has extended the deadline for applications for the 2021 YWCA Women of Achievement Awards to March 1, 2021.  Due to COVID-19, the Leader Luncheon event will be held virtually on May 13, 2021. The YWCA Women of Achievement Awards recognize individuals...
As part of the Consolidated Appropriations Act, 2021, passed by Congress and signed in December 2020, the federal government funded a third round of the Small Business Administration's (SBA) Paycheck Protection Program (PPP), which has provided low-interest and forgivable loans to small businesses across the country...