Franklin Display Group Organizes Collection For Washington, IL
Many of us shuddered when we learned the fate of Washington, Illinois and what the tornado left in its wake. We have lived it first-hand, through friends & relatives or worked on the emergency crews.
The emergency supply warehouse in Washington, IL is currently fully stock, but this will not last more than a few weeks. So the team at Franklin Display Group will help fill a fully-packed truck with donations from Boone County. One truck already made the journey this past Sunday and efforts are underway to continue bringing needed supplies as long as there is a need (estimated 2-months).
Donation information:
Monday-Friday
7:30 am-3:30 pm
Franklin Display Group (Staff have been alerted and will assist with your donations)
801 5th Street
Belvidere, Illinois 61008
The American Red Cross have identified the following as items needed (the list is not in any particular order):
· Tote Bags
· Plastic Trash Cans
· Plastic Storage Bins
· Gloves
· Non-Perishable Food
· Bottled Water
· Large Garbage Bags
· Toiletries (toothpaste, deodorant, soap etc)
· Buckets
· Sponges
· Mops
· Towels
· Paper Towels
· Toilet Paper
· Baby Formula
· Diapers
· Flashlights
· Batteries
· Manual Can Openers
· Duct Tape
· Female Hygiene Products
· School Supplies (Backpacks, Crayons, Pencils, Colored Pencils, Notebooks, Binders etc)
More Topics
Eighty families in the Belvidere School District will be able to celebrate Thanksgiving this year thanks to a grant from the Chrysler Foundation. The foundation gave a $2,500 grant to the district's Community Cupboard Food Pantry, which used the funds to provide holiday meal boxes to 80 clients. The...
Growth Dimensions Launches New Website and Boone County Anthem Video Growth Dimensions is pleased to announce the launch of its new cutting-edge website: www.growthdimensions.org. The new site is designed to showcase the character of Boone County and its business community. The website also includes the professionally produced video entitled Boone...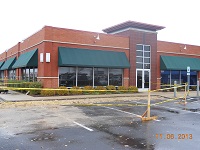 Officials at OSF HealthCare have announced plans to open a new OSF Center for Health – Belvidere in Belvidere, IL. The Belvidere office will be located within an existing facility at 1954 Gateway Center Drive, on the corner of Route 20 and Genoa Road. Construction is expected to becomplete in late March 2014. The one-story build­ out includes almost 12,000 square feet of interior space. Services available at the new location will include primary care,OSF PromptCare and outpatient testing,including lab and digital imaging,mammography, CT, MRI,ultrasound and bone density testing. In addition, physical therapy will beoffered in a building adjacent to the main structure. The OSF Medical Group primary care space will have 15 exam rooms, which will eventually accommodate up to fiveproviders. In addition, a new service that allows patients to check-in through self-check-in kiosks will be available. The providers, Katerina Doronila-Hughes, MD, Kashif Zaheer, MD, Carol Perenchio, CNP, and staff at the current OSF Medical Group – Belvidere office at 143 Kishwaukee St. willmove to the new location. The phone number for the primary care providers will remain the same – (815) 544-7400. Dr. Jeffry Tillery, vice president of OSF Medical Group Northern Region, said, "We are pleased to be relocating and expanding our Belvidere office. This move will allow us tooffer more services to the community with the same commitment to service, quality and safety we have always offered. We look forward to opening this new office and theimpact it brings to improve the health of Belvidere and surrounding communities."