Boone County To Launch Comprehensive Plan
More Topics
Congressman Adam Kinzinger Invites You To Attend Fiat Chrysler Automobiles' May 12 Supplier Symposium  Hosted by Congressman Adam Kinzinger, U.S. House of Representatives 16th Congressional District of Illinois You are invited to participate in this upcoming symposium to learn about  the potential to become a supplier and/or partner.   On behalf of Congressman Adam...
WIFR interviews our Executive Director, Pamela Lopez-Fettes, speaking about the changes in the Chrysler Plant. Catch the video here: http://www.wifr.com/content/news/EXCLUSIVE-Time-lapse-video-shows-construction-inside-Belvidere-Assembly-Plant-417918903.html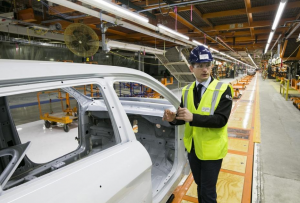 Tomasz Gebka, a 37-year-old Poland native, is helping the Italian-American automaker orchestrate a $350M retooling of the of the plant By Isaac Guerrero Staff writer BELVIDERE — Tomasz Gebka is overseeing a $350 million retooling of the Belvidere Assembly Plant and the training of roughly 4,500 employees, including 300...