Retooling Hearts And Minds For The Jeep Cherokee At Belvidere's Fiat Chrysler Plant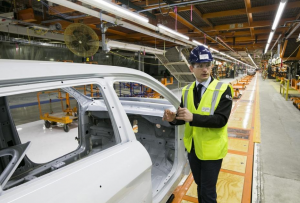 Tomasz Gebka, a 37-year-old Poland native, is helping the Italian-American automaker orchestrate a $350M retooling of the of the plant
By Isaac Guerrero
Staff writer
BELVIDERE — Tomasz Gebka is overseeing a $350 million retooling of the Belvidere Assembly Plant and the training of roughly 4,500 employees, including 300 new hires, to accommodate production of the Jeep Cherokee, which will begin in the coming weeks.
Fiat Chrysler Automobile's plan is to increase global Jeep sales from 1.4 million to 3 million vehicles a year, and the Belvidere plant is key to that goal. Cherokee production is winding down at the Fiat Chrysler plant in Toledo, Ohio, and will officially switch to Belvidere on April 7. Production here will gradually amplify through the spring and summer to an eventual 300,000 vehicles a year.
Assembly lines have been equipped with new robotics and Skillet Conveyors — massive platforms that rise and fall like an accordion, ensuring every assembly function is at arm's length, eliminating the need for workers to stoop or stretch as they perform each step of the build.
Less visible, though perhaps more important, is the culture shift that's happening inside the factory, said Gebka, the plant manager.
Gebka, 37, knows a thing or two about culture. The Poland native speaks four languages — German, Italian, English and Polish. He studied electronics and and telecommunications at Silesian University of Technology in Upper Sielsia, Poland, and has worked at Fiat Chrysler plants in Poland and in Italy during his 11 years with the Italian-American automaker. He came to Belvidere in July to prepare for and oversee the plant retooling.
"You can have the best equipment, the best plant and make the best vehicles," Gebka said. "But it doesn't matter if we do not touch the hearts of the employees."
Gebka is well-versed in the Fiat Chrysler methodology of World Class Manufacturing, which teaches employees throughout the company to cut wasted time, energy and materials from the auto production process and how to empower workers to improve themselves and their factories themselves and solve problems in real time.
The vehicles that zoom down today's highways are a high-tech amalgamation of metal, rubber, plastic, polymers and electronics. But it's the intangible raw materials — love, passion, curiosity and "a desire to build the perfect product" — that set the beautiful cars apart from the rest, Gebka said.
There's long been a culture of continuous improvement among employees at the Belvidere plant. Nurturing that culture is critical.
"This is the beauty of this business," Gebka said. "… Even if I'm the best today, what can I do tomorrow to improve, to raise the bar?"
A 'process center' comprised of 10 assembly stations was built inside the plant a month ago. It allows employees to examine the assembly process on a smaller scale and work out any kinks, Gebka said.
Every step is being tested and tweaked so that assembly is as quick, efficient and safe as possible. Thirteen 'pilot' cars have been built that workers can familiarize themselves with the finished product.
"Jeep is on a roll right now, said Michael Harley, a Kelley Blue Book analyst. "The Cherokee is a fun SUV. It's rugged, it's outdoorsy. The 2018 redesign will feature a new engine and sales should boom. … Crossovers are very hot right now, and they're going to stay hot for at least the next five to 10 years."
Thousands of designers, engineers, skilled tradesman and others have come to the Belvidere plant — some come for days, some for weeks or months — to assist with the retooling. They're staying at local hotels, dining at local restaurants and giving the local economy a boost.
The Belvidere plant is the single largest employer in the region, and jobs there are highly coveted, said Fiat Chrysler spokeswoman Jodi Tinson. Starting pay for assemblers is about $17 an hour plus benefits per the latest United Auto Workers union contract. Electricians, millwrights and other skilled trades jobs pay even more.
The response from applicants was so intense when Fiat Chrysler advertised the new Belvidere positions online this month that the website was taken down within about two minutes, Tinson said.
"This investment by Fiat Chrysler is a very good sign for the Belvidere area," Harley said. "The plant is being modernized, and the training and education that the workers are receiving is invaluable. It means they'll have the latest skillsets so the plant is as productive and efficient long into the future."
Isaac Guerrero: 815-987-1361; iguerrero@rrstar.com; @isaac_rrs