Reflecting On Our History, Celebrating Our Present, And Preparing For Our Future
Future looks bright for local economic development
As we at Growth Dimensions were preparing for our upcoming annual dinner, marking 35 years in business, Boone County and the northern Illinois region received some uplifting news: Governor Pat Quinn announced a $223 million state capital investment that will bring Amtrak service between Rockford and Chicago with stops in Belvidere, Elgin and Huntley, beginning in 2015. Not only does this bring much-needed passenger rail service to the area, it also means the creation of hundreds of jobs.
The return of passenger rail to Rockford for the first time since 1981 will begin with one round trip daily between Chicago's Union Station and a temporary station located in Rockford. Service will be expanded the following year and will eventually continue west to Dubuque, Iowa. As part of the $223 million investment, $5.85 million will be split between Huntley and Belvidere to develop their own stations.
The return of rail service to Boone County was met with plenty of enthusiasm. "We are excited regarding the economic potential created by routing the train through Belvidere and thank Governor Quinn for making this a priority," Belvidere Mayor Mike Chamberlain said. "I would also like to again recognize former Mayor Brereton, Dave Taylor, Steve Ernst and the entire NICTI group for their tremendous efforts to create a transportation vision for Northern Illinois. This vision has become reality."
This good news should be celebrated by all residents and business leaders who are dedicated to economic development growth in Boone County.
It's certainly cause for celebration here at Growth Dimensions. It's another example of the good work and collaboration taking place in here, which may or may not be apparent to everyone.
Since I joined the organization in 2004, and was named executive director last year, the question I'm most often asked is, 'What is Growth Dimensions?'
Growth Dimensions is an organization that has the unique opportunity to tell the story of what our area has to offer as a place to live and do business. We do not directly create jobs and investment, but we are Boone County's biggest champion, working with local businesses, community leaders and citizens to share their tales of successes and opportunity. Our role is to work to help create the most conducive environment for prosperity. Whether your business has new technology, service, expansion or upcoming projects, we can help tell your story to the local community and beyond.
For many reasons, Boone County is an ideal location for any business. We're part of the growing I-39 and I-90 logistics corridor, close to major employment centers and served by interstates, rail and air services.
Boone County is the heart of the Midwestern industrial belt centrally located between three of the top 100 metro areas in the country – Chicago, Milwaukee, and Madison, with – more than 13.4 million people living within 100 miles. Boone County has two solid school systems, low taxes, and attractive quality of life and is home to thriving companies including Chrysler, General Mills and Franklin Display Group, to name just a few.
Over the years, we have seen many changes in the local business climate. One thing that hasn't changed, however, is our commitment to serving the companies and hardworking people of this area. And our work is far from over. We continue to focus on our goals: to increase the exposure of Boone County through targeted marketing; build, maintain and provide quality economic development data and information; keep tabs on our existing business community; and maintain strong collaboration with our workforce, education and industry partners to address workforce development needs.
Thanks to everyone who's had a hand in our past successes. I can't wait to see what the next 35 years bring.
Sincerely,

Kelly Galluzzo
Executive Director
Growth Dimensions
The History of Growth Dimensions
A significant anniversary is a good time to look back at the successes achieved by an organization.
That's certainly the case for Growth Dimensions, the driving force behind economic development in Boone County, which is celebrating its 35th anniversary this year.
Growth Dimensions was incorporated as a not-for-profit corporation in 1979, by the City of Belvidere, Boone County and the Chamber of Commerce. Three years later, a broad-based economic development program was identified as a priority need and Growth Dimensions was determined to be the perfect vehicle to launch the program.
Despite Boone County facing plant closures, layoffs, staggering unemployment figures and a deteriorating tax base, more than 150 business and industrial leaders became involved in Growth Dimensions in its first year of existence. In addition, a Center for Governmental Studies conducted a survey of Boone County residents, which indicated strong community support for an aggressive industrial development program on behalf of Belvidere and Boone County, as well as for a downtown revitalization program.
In the 1980s, Growth Dimensions provided technical expertise, job training assistance, financial information and tax incentive assistance to major Boone County businesses including Ipsen Abar, Chrysler Corporation, Dean Foods, Pillsbury Green Giant, Century Tool and Franklin Wire Works. Out of Growth Dimensions and the Chamber of Commerce other necessary organizations were established including SCORE (Service Corps of Retired Executives), which provides free business mentoring to entrepreneurs.
There were other highlights. In 1985, local officials saw a turning point for economic development, thanks to the designation of the enterprise zone by the state, as well as a number of major industrial expansions, increased interest in commercial development in several areas, and the receipt of $500,000 in "Build Illinois" funds for State Street improvements and sewer service expansion.
A year later, more than $842 million was invested or committed to commercial and industrial projects, in addition to public facility and infrastructure improvements. For the first time, Growth Dimensions recruited a full-time executive director to provide aggressive marketing and financial assistance to area businesses.
In the 1990s, major employers made significant investments in new facilities, purchase of new equipment and rehabilitation of existing facilities. The decade brought other notable triumphs, such as the production of the NEON at Chrysler, the arrival of R & D Thiel and retail chain, Shopko. In 1997, the Poplar Grove Airport was recognized by the Illinois Department of Transportation as the "Privately Owned General Aviation Airport of the Year."
Growth Dimensions significantly increased its marketing, both regionally and nationally and worked more closely with developers, property owners and realtors to increase the availability and selection of fully developed industrial sites and buildings. The aggressiveness paid off: we saw the opening of Sager Corporate Park and the development of Landmark and Town Hall Industrial Parks. In addition, Belvidere High School launched a 49,000 square foot remodeling project, which included a 850-seat auditorium.
Growth Dimensions, City of Belvidere and Boone County formed partnerships with local businesses, area utilities, and local higher education institutions to create a New Uses Agricultural Technology Park to support the commercialization of agricultural research for alternative industrial uses. Also, NDK America Inc. selected Belvidere for a new, state-of-the-art facility combining manufacturing with research and development.
In 2004, Crusader Clinic opened a clinic in Belvidere, providing primary medical care for patients of all ages on an affordable sliding fee basis. A year later, Chrysler Group announced it was investing $419 million to revamp the Belvidere assembly plant in preparation of building new models. In 2009, SwedishAmerican Medical Center of Belvidere opened. The center's services include 24-hour emergency care; digital mammography and X-ray, ultrasound, CT, MRI; physical therapy; sleep lab; coumadin clinic; echo, pulmonary function testing; infusion services; outpatient lab; inpatient services and surgery.
These days, Growth Dimensions coordinates and manages the strategic initiative projects that are identified in the Belvidere-Boone County Economic Development Strategic Plan including: Business Retention, Expansion and Attraction Programs; Kishwaukee Riverfront Development, Transportation Initiative Project and more.
The organization works to market the area effectively to potential investors, and advocates cooperative efforts to address common concerns of the communities within the region. Growth Dimensions also serves as an advocate with developers to troubleshoot issues that might impact their development plans. The organization also maintains close contact with state, city, village, and county officials and development staff regarding development codes, standards and incentives.
Growth Dimensions is also the lead liaison for primary employers in Boone County, regarding public sector issues and the delivery of economic development services. Growth Dimensions also contractually administers the Belvidere – Boone County Enterprise Zone for the City of Belvidere and Boone County. For 35 years, Growth Dimensions has proven to be a regional partner representing Belvidere and Boone County to the region through participation with other regional organizations.
Growth Dimensions Board Member Profile
Dr. Rena Cotsones, Assistant Vice President, Regional Engagement, Northern Illinois University
Four years ago, Dr. Rena Cotsones joined the Growth Dimensions board of directors, continuing the long tradition of NIU representation on the local economic organization's board. Dr. Cotsones came to Rockford in the 1980s as an intern reporter/anchor at WIFR-23. She worked as a television reporter for a couple of years, getting to know the Rockford community before moving into the public relations field at Rockford Memorial Hospital, and later as executive vice president of the Rockford Chamber of Commerce. She is a tireless volunteer, serving as a board member for many organizations including Growth Dimensions, Rockford Chamber of Commerce and Alignment Rockford, and a past board member of the YMCA of Rock River Valley and Rockford Symphony Orchestra. In a recent interview, Dr. Cotsones talks about the work of Growth Dimensions, the role NIU plays in the region, and the importance of collaboration in economic development.
Why is the work of Growth Dimensions so important to our region?
Growth Dimensions, as with other economic development organizations, needs someone to, in a very intentional way, go outside the community and talk about the benefits the community has to offer and, just as importantly, work within the community touting the advantages and the benefits. Most people think about economic development as attracting new businesses to town. A bigger piece, however, is expansion and retention of business. In the last several years, with the economic slowdown, keeping businesses alive, expanding and offering jobs to people and purchasing supplies from area vendors, is just as important as is bringing in new business. I find it really exciting to look at how you can enhance quality of life, expand, grow and create new opportunities within your community for local citizens, as well as attract new people from the outside. I love being in the middle of that kind of activity.
Growth Dimensions is celebrating its 35th anniversary this year. What's the significance of this landmark?
It's a great benchmark. It's a wonderful demonstration of community supporting this effort. Economic development doesn't happen without community support – community meaning business, local government, private and public sector coming together as partners to say that we're going to work together to attract businesses and to expand. The fact that you've been able to keep something – that's very difficult to do – going in a viable manner for 35 years, is quite an accomplishment.
You serve as the university's Rockford-based champion for the engagement of NIU in the region. What does your work entail and how does Growth Dimensions play a role, if any?
The university is looking at serving the region, making the region better, providing opportunities for students and citizens and doing everything we can to increase the growth and prosperity of the region. I have the great pleasure of working with partners in pursuit of what we call the Rockford area engagement agenda. Belvidere and Boone County are important parts of this region. We're looking at ways to increase educational attainment, help to improve public school outcomes, positively influence the health and wellness of residents, and enhance the culture of innovation within area businesses. The Rockford area is very international. There is a lot of foreign direct investment here. In the past several years, we've seen Growth Dimensions and other economic development organizations really start to market themselves internationally. A successful business and community has to operate on a global scale. That's something we're looking at ways to support. My job is to help connect the resources and expertise at NIU with the expertise and resources that already exist within the community. We're joining the abilities that our faculty and staff members bring, with the abilities of people in the region who know it best, to address the challenges and maximize opportunities that exist.
You started out in broadcast journalism. What was that experience like and how did it shape your future?
It was the best first job to have in a community. You get to meet everyone. Within the first few weeks I met the mayor, business leaders and really got out to know the community here. It set me on a path to discover that there are some really terrific people doing great things in the community. That grounding of getting to know people in leadership positions was very helpful in understanding the various networks in the Rockford area and how those things work together.
In your opinion, what are the best things about living and working in northern Illinois?
One of the great things about the Rockford area is that it's big enough to have lots of interesting issues and opportunities but small enough for people who are motivated to get involved. In Chicago, you can't get close to some organizations unless you're a millionaire or a CEO of a company. In the Rockford area, at any level, you can walk into an organization like Growth Dimensions and find a way to get involved, and you will be welcomed. To me, that is one of the best parts about living and working in this area.

What inspires you?
It's very exciting to work for a university because I get to see students, every day, bettering themselves. These are people who have interesting stories about their families, their goals, and what they're trying to accomplish. Alumni have wonderful stories, too, about what their NIU experience meant to them. If you talk to Dennis Barsema, who was very successful in business and came back to generously support our College of Business, he will tell you that he would never have succeeded if it weren't for the experience and education at NIU. We get to hear those stories all the time. It's exciting to be part of an institution that literally changes lives.
How satisfying was it to receive your doctorate a year ago?
It was very exhilarating to spend the time thinking very deeply about something enough to be able to write a dissertation about it. The dissertation was about the elements of successful collaboration. Throughout my career, I've been very engaged in collaboration. I've seen it work well and I've seen it not work well. A dissertation is a huge undertaking and there is a great sense of accomplishment (and relief) when you're finished. I've been able to enrich my abilities as a professional and what I do in making connections for the university in the region. That's the means. The end is to make a positive impact on the region and that's what NIU strives to do every day. In a successful collaboration, everyone is committed to a shared vision and titles and positions become less relevant. When you get in the room at a Growth Dimensions board of directors meeting, for example, you have people from all walks of life in that room. You have public sector, private sector, community leaders, and they're all focused on what they can do to help support the community. That's very exciting and I believe it's a privilege to be a part of it.


NIU football coach to speak at annual dinner
The guest speaker at this year's Growth Dimensions' annual dinner knows a little something about success.
Rod Carey is Northern Illinois University's head football coach. Carey will be sharing his experiences about leadership, pursuing opportunity and the goals that can be achieved when working together as a team.
Last year, Carey, in his first full season as head coach, led the Huskies to the first 12-0 regular season in school history and two victories over Big Ten Conference teams. A native of Wayzata, Minn., Carey began his collegiate coaching career at the University of Minnesota. Prior to UM, he spent four seasons in the high school ranks at his alma mater, Wayzata (Minn.) High School.
A large turnout is expected at the dinner, Wednesday, April 23, at Belvidere North High School, from 5:30 to 8 p.m.
The event will highlight the past year's accomplishments of the Growth Dimension's organization, including the successes in job growth, capital investments and expansion projects by major employers in Belvidere.
"We're really looking forward to this year's celebration," says Kelly Galluzzo, executive director of Growth Dimensions. "For the past 35 years, Growth Dimensions has been a part of many wonderful accomplishments in Boone County. We look forward to celebrating those accomplishments with the community, and we're honored to have Coach Carey join us and share his insight on keys to success."
Individual tickets are $75 and tables of 10 are $700. Seating for the annual dinner is limited. Please register by April 18. The major sponsor of this year's event is General Mills. Other sponsors include ComEd, Paul Anthony Arco Communications, Country Financial and Williams Manny.
For more information, please email info@growthdimensions.org or call 815-547-4252.
More Topics
Governor Pat Quinn today announced a $223 million state capital investment that will create hundreds of jobs and restart Amtrak service between Rockford and Chicago beginning in 2015. The return of passenger rail to Rockford for the first time since 1981 will begin with one round trip daily between Chicago's...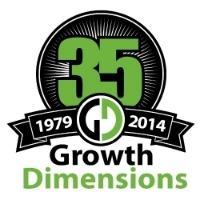 2014 Growth Dimensions Annual Event Sponsorship Levels Sponsor Level Benefits Amount Legacy Sponsor Your Company Recognized and Scheduled as Part of the Program to Speak for 2 Minutes Spotlight story in the Growth Dimensions Pre-Event Newsletter (Current reach over 3,000)...