World Class Manufacturing Training Trailer Rolls Into Belvidere Chrysler Assembly Plant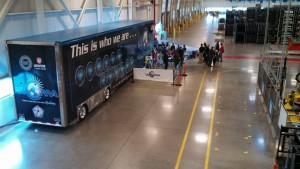 Hundreds of the workers at the Belvidere Chrysler Plant are back in the classroom this week to learn new ways to tackle problems that spring up on the assembly line.
The best part about the class? The workers don't even have to leave the plant.
A refurbished Nascar trailer rolled into the body shop today. It's Chrysler's new mobile version of their training academy based in Michigan. The state of the art classroom on wheels allows more people to take advantage of the company's job training programs. For the next three days, about 450 workers from different sections of the plant will be learning methods to improve their work on the line.
"People are far more likely to be engaged in a positive, active way If they are listened to, if their suggestions are noted and actually implemented and the results are obvious," said James Sarkis with WCM Academy.
The training sessions are short, only an hour and a half. Six more will be offered tomorrow and Thursday.
For full story including videos: Chrysler Workers Train with Interactive Mobile Lab
More Topics
Click here for OFFICIAL Chrysler and Bob Dylan Super Bowl 2014 Video
The Genoa Road Bridge carrying traffic over the Jane Addams Memorial Tollway (I-90) in Belvidere is scheduled to close beginning the week of February 3 for demolition and reconstruction to make way for the I-90 Rebuilding and Widening Project. The bridge is scheduled to reopen by late spring. Full...
The Workforce Connection will hold its annual January Career Expo and Job Fair this Thursday (January 30th) from 12-4pm at the Community Building Complex in Belvidere. More than forty employers, employment and staffing agencies and education and training providers have reserved booth space for the job fair. More than...