The Chrysler Foundation Energizes 2014 FIRST Robotics Season With Nearly A Quarter-Million Dollars In Grants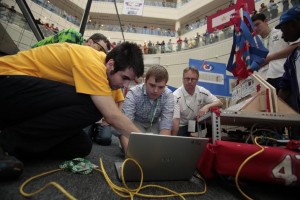 High schools in Boone County are among dozens in the U.S. and Canada that have been chosen to share in nearly a quarter-million dollar fund from the Chrysler Foundation.
Grants will help students to ready robots for run at FIRST Robotics Championship
January 2, 2014 , Auburn Hills, Mich. – The Chrysler Foundation today announced grants totaling $229,000 to support FIRST (For Inspiration and Recognition of Science and Technology) Robotics teams and organizations in Arizona, Illinois, Indiana, Michigan and Ontario, Canada. The grants will enable more than 1,000 middle and high school students to discover the rewards of science and technology as they compete in the annual international robotics competition.
VIDEO: FIRST Robotics: Killer Bees, Bionic Barons, More Martians and The Chrysler Foundation (2013): http://youtu.be/IppTdkRcoXs.
The Chrysler Foundations' funding announcement coincides with the official start of the 2014 FIRST Robotics' design and build season on Jan. 4. During this phase, teams have the opportunity to meet at local FIRST kickoff events to compare notes, get ideas, make friends, find mentoring teams, learn the design challenge, pick up the official parts kit, and get geared up for the exciting competition season. Last year, FIRST teams were tasked with building robots that were capable of competing in a high-tech version of disc golf.
"The FIRST program provides students with invaluable real world engineering experience," said Mark Chernoby, Senior Vice President, Engineering and Vice President – Product Committee Coordinator — Chrysler Group LLC. "We hope that by engaging students at an early age, we can provide the spark that inspires them to be future innovators and problem-solvers."
Each of the following 41 high schools will receive a $5,000 grant from The Chrysler Foundation:
Arizona
Kingman High School (Kingman)
Illinois
Belvidere, Belvidere North and North Boone High Schools
Indiana
Northwestern High School (Kokomo)
Western High School (Russiaville)
Michigan
Ann Arbor Huron High School
Birmingham Seaholm and Birmingham Groves High Schools
Bishop Foley Catholic High School (Madison Heights)
Bloomfield Hills High School
Capac Community Schools
Cardinal Mooney Catholic (Marine City)
Center Line High School
Chelsea High School
Dundee High School
Genesee Robotics Area Youth Team (Fenton)
Golightly Vocational Academy (Detroit)
Goodrich High School
Grand Blanc High School
Hartland High School
Lake Orion High School
Linden High School
Macomb Academy of Arts and Sciences (Armada)
Notre Dame Preparatory (Auburn Hills)
Oakland Tech Northeast (Pontiac)
OSM Tech Academy at Clarkston High School
Oxford Community Schools
Pontiac High School
Rochester Adams and Stoney Creek High Schools (Rochester Hills)
Romeo Community Schools (Washington)
Skyline High School (Ann Arbor)
Southeastern High School of Technology (Detroit)
Henry Ford II, Stevenson and Utica High Schools (Sterling Heights)
Walled Lake Schools
Warren Consolidated Schools
Waterford Kettering High School
Ontario, Canada
Assumption College School
Harrow District High School
Holy Names Catholic High School
Maranatha Christian Academy
Sandwich Secondary School
Vincent Massey Secondary School
Walkerville Collegiate Institute
Ultimately, teams sponsored by The Chrysler Foundation that qualify for the FIRST Championship (April 23-26) in St. Louis, MO will receive a share of a $15,000 booster fund that will support the teams during the championship.
"The Chrysler Foundation and Chrysler Group are proud to help students discover the rewards and excitement of education and careers in science, engineering, and technology," said Jody Trapasso, Senior Vice President – External Affairs, Chrysler Group LLC and President – The Chrysler Foundation. "We are equally proud of our employees who generously mentor students and serve as competition coordinators."
The Chrysler Foundation also announced a $7,500 grant to FIRST in Michigan to support district and statewide robotics competitions, and grants of $750 each to support FIRST Tech Challenge teams in Fenton and Linden, Mich.
About The Chrysler Foundation
The Chrysler Foundation, the charitable arm of Chrysler Group LLC, has established a proud legacy of empowering people and investing in local communities. The Chrysler Foundation focuses its support on four key areas: Education: K-12 and post-secondary education initiatives that encourage the study and pursuit of careers in business, design, science, technology, engineering, mathematics or supply-chain management; Military: support for the nation's service members and their families in need; Multicultural / Diversity: initiatives that promote inclusion and advancement opportunities for diverse populations; and Youth Development: organizations and programs that provide mentoring and related assistance to aid youth in the transition to adulthood.
Since its inception in 1953, The Chrysler Foundation has awarded more than $500 million in charitable grants.
For More Information: Chrysler News