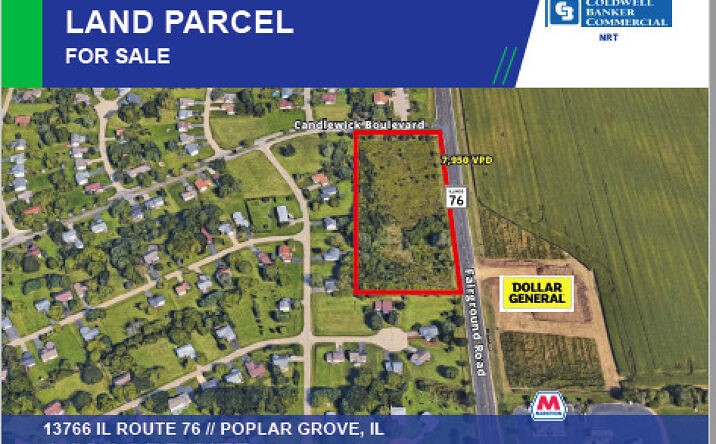 4.6 Acres / Corner Lot, Poplar Grove
13766 IL - 76

Poplar Grove
, Boone County
, IL
61065

US
Parcel:
03-26-328-025
Financials
Sale Price: $400,000.00
Lease Price: --
Terms:
Sq. Ft.: --
Acres: 4.66 - 4.66
Tax: --
Tax Year: --
Features
Land
In City Limits
Building
Sub-dividable
Expandable
Build To Suit
Shovel-Ready
Industrial Park
Business Park
100-Year Flood Plain
Phase 1 Environmental Audit Complete
Utilities
Electric
Natural Gas
Water
Sewer
High Speed Telecom
Transportation
Nearest Airport: 2 miles
Nearest Highway: 12 miles
---
Broker Info
Broker / Real Estate Agent
Paul Proano
Coldwell Banker Commercial
312-860-4043
____________________________________________________________________________________________
Economic Development Contact
Pamela Lopes-Fettes
Growth Dimensions
401 Whitney Blvd.
Belvidere, IL 61008
pfettes@growthdimensions.com
815-547-4252
815-355-2250
Details
Price / Square Foot (Land Value) $85,836 / SF
Paul Proano Properties has been exclusively chosen to market this 4.66-acre improved corner lot property in Poplar Grove, IL. The site has been improved with all utilities except for water service which is 110 feet away across route 76 rd. Being Zoned GB, this potential development site would be an approved location for a retail strip center, single standing retail, storage facility, car wash, day care & Cannabis Dispensary. Backing up to roughly 2,600 residential homes in a private community, the demand is there for development at this location to service the residents needs while Poplar Grove continues to see economic development due to being located only 6 miles from the I-90 expressway. The Village of Poplar Grove has worked diligently with surrounding taxing districts and economic development partners to create an Enterprise Zone at the corridor of IL-76 and IL-173 where business and entrepreneurs have access to economic opportunity and growth incentives.
Zoning Permits for this location: Personal or Professional Service Indoor Retail Sales/Service Indoor Repair Sales/Service Public Parks and Open Space Utilities Wireless Communication Facility Indoor Lodging (bed and breakfast) Indoor Lodging (commercial) Daycare Facility Boarding Houses Permitted by Special Use: Public and Private Institutional Outdoor Retail Sales/Service Indoor Entertainment Sales/Service Outdoor Entertainment Sales/Service Vehicle Related Sales and Service Animal Boarding Indoor Lodging (bed and breakfast) Indoor Lodging (commercial) Daycare Facility Boarding Houses Parking Lot (off-site) Self-Service Storage Facilities (mini warehouses) Adult-use Cannabis Dispensing Organization Adult-use Cannabis Transporting Organization or Transporter List of Allowable Accessory Uses: Permitted by Right: Garden/Tool Shed Permitted by Special Use: Private Recreational Facility Cemetery Related Activities Accessory Apartment Private Clubhouse Beer Garden Stadiums/Grandstands Mini WECS Outdoor Storage Accessory to Self-Service Storage Facilities List of Allowable Temporary Uses: Contractor's On-Site Equipment Storage Facility Contractor's Project Office On-site Real Estate Sales Office General Temporary Outdoor Sales Tents for Special Events Temporary Outdoor Food Stands Temporary Outdoor Seating and Services Re-Locatable Building Construction Dumpster
Land is located in the Enterprise Zone
Details:
Property Type: Self Storage, Land, Mixed Use
Tenancy: Multi
Price/Sq Ft: $2.00
Lot Size: 4.66 Acres
Lease Type: NNN
Square Footage: 2,0376
Zoning: GB
Price/Sq Ft (Land Value): $85,836/SF
APN: 0326180006
Category
Enterprise Zone, Land
Posted On: 03-14-2023
Last Updated: - 2 months ago