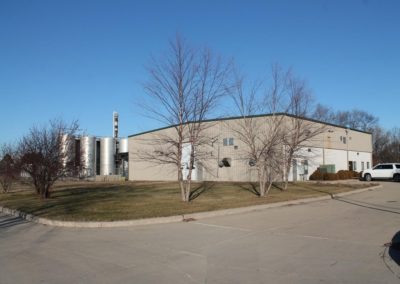 Biodiesel Facility
1201 Crosslink Pkwy

Belvidere
, Boone County
, IL
61008

US
Financials
Sale Price: --
Lease Price: --
Terms:
Sq. Ft.: --
Acres: --
Tax: --
Tax Year: --
Features
Building
Industrial Park
In City Limits
Sub-dividable
Expandable
Land
Build To Suit
Shovel-Ready
Business Park
100-Year Flood Plain
Phase 1 Environmental Audit Complete
Utilities
Water
Sewer
Electric
Natural Gas
High Speed Telecom
Transportation
Nearest Airport: 18 miles
Nearest Rail: 0 miles
Nearest Highway: 3 miles
---
Broker Info
Maas Companies, Inc
PO Box 7127 Rochester, MN 55903
Phone: 507-285-1444 • 507-285-0034
_____________________________________________________________________________
Economic Development Contact:
Pamela Lopez-Fettes
Growth Dimensions
401 Whitney Blvd.
Belvidere, IL 61008
(815) 547-4252
(815) 355-2250
Details
SALE EXTENDED, LOOK FOR NEW INFORMATION COMING SOON!
The facility sits on a 6.74± acre parcel, with an option on 3 acres and another 9 acres adjacent for future expansion and is strategically located very close to the intersection of I-90 and I-39. Rockford is just a few minutes to the west and Chicago's O'Hare Airport is just 50 miles to the east. While there is currently no direct rail access to the site, there is a vacant UP Rail Spur available for lease just a quarter mile from the plant, and there is the potential to gain an easement for rail spur development in the future. The 5,300,000 Sq. Ft. Chrysler/Jeep plant can be seen from the plant and is just minutes away.
Thursday, March 17 Bidding Ends at 4 pm CT
1201 Crosslink Parkway
Belvidere, IL 61008
---
Brochure
---
Catalog
---
Description
$7 Million Dollar / 5 Million Gallon Per Year Biodiesel Facility on 6.74± Acres of Land
Real Estate & Equipment Selling Separately or as Entirety

BioVantage Fuels, LLC is a regional biodiesel manufacturer located in the Crosslink Business Park that produces high quality, ASTM D6751 grade biodiesel primarily from Used Cooking Oil (UCO). The plant is capable of producing approximately 5 million gallons per year and has both the additional land and utility access available for significant expansion in production capacity. Lifetime Operating Permit, Blenders License, Wastewater Spray Permit Available.

For additional information, please complete this release.

NEW! Explore with a 3D Tour of the Plant:


Incentives:
Crosslink Business Park is located within the Belvidere/Boone County Enterprise Zone. Contact Growth Dimensions Economic Development for more information.
Rockford Area Economic Development Council
Boon County Business Resources
Boon County Business Resources Incentives
Northern Illinois Certified Sites Program-Region 1

Utilities:
BioVantage Fuels currently has excess heating, cooling, air, and electrical capacity.
Major utility equipment includes:
Boilers: 150 HP Columbia gas-fired boiler; 80 HP Cleaver- Brooks gas-fired boiler; spare dual fuel burner (for both diesel and natural gas).
Cooling: 300 ton Baltimore Air Coil Cooling Tower; 30 Ton Marley Cooling Tower; Two 15-ton Aquasnap air cooled chillers; 10-ton Budzar water cooled chiller.
Air Pressure: 50 HP Sullair High Efficiency Rotary Screw Air Compressor; 15 HP Ingersoll Rand High Efficiency Rotary Screw Air Compressor with Dryer; 300 SCFM Capacity Sullair Air Dryer.
Electrical: Two PLC Cabinets with GE Fanuc 90-30 controllers; one Siemens Cabinet control system; three quick panels. Full service 480 V 1500 Amps to building.


Storage:
BioVantage has two separate tank farm areas, designated for flammable and non-flammable materials. The non-flammable tank farm has room to add tank storage. Current storage of note includes:
3- 23,700 gallon Carbon Steel jacketed and insulated Feedstock Tanks
3- 23,700 gallon Carbon Steel jacketed and insulated Biodiesel Tanks
2- 12,800 gallon Carbon Steel jacketed and insulated Glycerin Tanks
1- 12,800 gallon Carbon Steel jacketed and insulated Sodium Methylate Tank
2- 12,800 gallon Carbon Steel Methanol Tanks
1- 12,800 gallon Carbon Steel insulated Biodiesel Settling Tank
The tank farm has loading and unloading areas for bulk tankers that are spill-contained, complete with 3" camlock fittings, and pumps to dispense glycerin and biodiesel. Tankers unloading their product can use their own pumps or use air pressure to offload. All pumps and pipelines that require it have electrical heat trace and insulation, and the flammable areas are protected with a deluge foam system.

Process Equipment:
BioVantage employs a traditional pre-filtration, acid esterification, two stage trans-esterification system complete with water washing, dry media polishing, and chilled filtration for cold weather performance. Equipment of note includes:
Stainless storage and decant tanks:
2 – 2,000 gallon cone bottom
1 – 2,400 gallon cone bottom
1 – 4,200 gallon cone bottom
1 – 3,200 gallon cone bottom
2 – 2,000 gallon flat bottom
1 – 600 gallon rising film evaporator
2 – 600 gallon dish bottom
3 – 200 gallon saddle tanks
Glass Lined Vessels:
1 – 1,000 gallon Pfaudler Reactor with steam jacket
1 – 3,000 gallon Pfaudler decant tank
Stainless Reactors and process vessels:
2 – 1,000 gallon trans-esterification reactors
1 – 1,200 gallon stainless mix tank
1 – 53' x 30" stainless steel distillation column with structured packing
Carbon Steel and other Process Tanks:
2 – 4,000 gallon flat bottom holding tanks
1 – 4,500 gallon saddle tank
2 – 250 gallon saddle tanks
1 – 2,500 gallon fiberglass saddle tank
2 – 1,250 gallon fiberglass saddle tanks
1 – 2,500 gallon HDPE water tank
Filters:
1 – Carbon Steel Vertical Pressure Leaf Filter
3 – Harvard Filter Cartridge Filters
5 – Stainless Bag Filter Housings for #2 bags
Pumps:
Approximately 10 AODD pumps , 50 electrical motor pumps, and 5 chemical metering pumps from various vendors and for various purposes, ranging from 0.5 HP to 25 HP. Approximately 65% of our electrical pumps are controlled with VFD's; the bulk of our pumps are positive displacement, either Viking gear pumps or Corken Rotor and Vane pumps. The balance are largely centrifugal. All motors are Class 1, Division 2 compliant explosion-proof pumps.
Heat Exchangers:
Six APV SR-2 Plate and Frame heat exchangers, one WCR Narrow profile plate and frame heat exchanger, two Alfa-Laval plate and frame heat exchangers, and a total of five shell and tube heat exchangers of various sizes.

Lab:
BioVantage has a solid lab complete with all the necessary instruments required to verify critical ASTM Specifications and to troubleshoot production on a daily basis. BioVantage leases a Eurofins Quality Trait Analyzer (QTA). In addition, the plant contains a Karl Fischer Titrator, an automatic Titrator for Total Acid Number, a closed-cup flash point tester, multiple centrifuges and balances, a chill water bath and the equipment necessary for cold soak filter testing, as well as all the glassware and equipment necessary for pilot testing of new feedstock and basic wet chemistry.

View Drone Video of the site:

Posted On: 03-17-2022
Last Updated: - 8 days ago