Poplar Grove Airport Outlines Transformation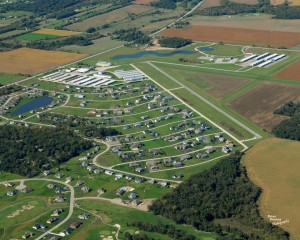 Poplar Grove Airport brings in millions to the area
Question: Tell us about your business.
Answer: The Poplar Grove Airport is a privately owned open-to-the-public airport and is home to Poplar Grove Airmotive, which operates a flight school, aircraft and engine maintenance service, hangar storage and sells aviation fuels.
Question: How did you start your business:
Answer: Realizing Boone County was the only county in the state without an open-to-the-public airport, local businessmen Dick Thomas and John Strom established what was originally known as the Belvidere Airport from a corn field in 1972. Steve, Dick's son, and wife, Tina, purchased the airport in 1995 with an eye toward growth and development.
Question: How has your business transformed over the years?
Answer: In 1995, the airport and business employed six and was home to 40 airplanes. Over the next 10 years the airport and business developed to employ 60 personnel and is home to 400 aircraft. Its aircraft engine overhaul service is nationally recognized as one of the best. In 2012, an Illinois Department of Transportation Economic Impact Study reported the Poplar Grove Airport had added $18.3 million to our area.
Question: What advice would you offer to a new business owner?
Answer: Work hard, smart, have family support, keep it fun, love what you do and never give up.
Question: How would you transform the Rock River Valley?
Answer: Whatever you do, be the best. Best quality, best service, best employees. With the leverage gained by the Internet, social media and last but not least "word of mouth," people will be drawn to your business, product or service and community.
Poplar Grove Airport
Where: 11619 Route 76, Poplar Grove
Information: 815-544-3471
Website: poplargroveairmotive.com
Read full article: Q&A: Aviation companies in Rockford Outline Transformation