Boone County
1212 Logan Ave. • Belvidere, IL 61008
US
A great place to Live, Work & Play.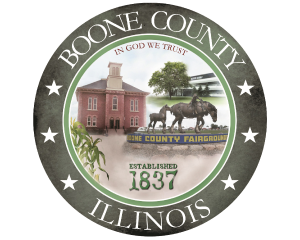 Boone County, Illinois, was organized from Winnebago County on March 3, 1836, being named in honor of Kentucky's pioneer, Daniel Boone. However, its present boundaries were not gained until May 4, 1843, when a mile-wide strip was annexed to the western border from Winnebago County.
Approximately 70 miles west of Chicago, IL, Boone County is bordered to the north by Wisconsin, the south by DeKalb County, the east by McHenry County and to the west by Winnebago County.
Boone County is a true gem of Northern Illinois. With its rich history, agricultural heritage and business-friendly enviroment, Boone County sets the example of nature and industry successfully co-existing.
It close proximity to major metropolitan areas, allows for quick access to unique shopping experiences, world-class dining and renowned sports and entertainment. Plus, with one international airport within 20 minutes and three other major, international airports a little over an hour away, you can be off on a great adventure or business trip with out the stress of a long distance drive.
When you are ready to take step back from the hustle and bustle of everyday life, Boone Count is here waiting for you.
The low cost of living, job opportunities, parks, and eclectic shops & restaurants provide a comfortable environment to live, work and play.